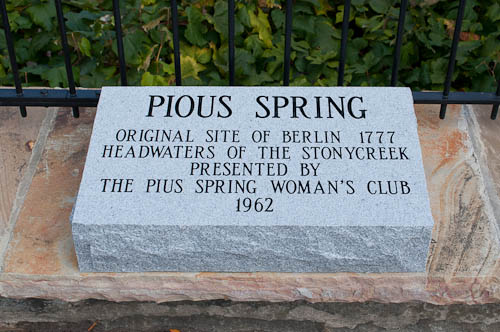 I grew up in Central Pennsylvania and also in a little farming community down the road from Shanksville (the Flight 93 crash site). However, not everyone who reads this blog lived in Pennsylvania for decades like I did. (Not sure whether I should actually admit this . . . ) So, if you're still new here and want to learn more, here are some books about Western Pennsylvania history that I enjoyed:
1.) Anything by Thomas White
White teaches and archives at Duquesne University in Pittsburgh, and he also wrote a million books about Pennsylvania history and folklore. I just finished reading White's "The Witch of the Monogahela: Folk Magic in Early Western Pennsylvania."
2.) "The Day Must Dawn" by Agnes Sligh Turnbull
Turnbull grew up in New Alexandria in the late 1800's. She graduated from Indiana University of Pennsylvania. After World War I ended, she wrote this fiction novel about colonial settlers in Hanna's Town (Hannastown) during the Revolutionary War. When I toured the visitor's center at the Flight 93 National Memorial, I learned that Flight 93 travelled over part of Westmoreland County just moments before it crashed in Somerset County. The plane travelled over the same mountains that provide the setting for this book about living with fear and hope in the 1700's.
If you decide that you liked Turnbull's historical fiction, note that she wrote "The King's Orchard" about early Pittsburgh businessman James O'Hara. (O'Hara was philanthropist Mary Schenley's grandfather and also the source of her significant fortune.) She also wrote a novel titled "Remember the End" about Alex MacTay, a fictional mine owner in Greensburg during the Industrial Revolution. I suspect that Turnbull based MacTay on a hybrid of Henry Clay Frick and Andrew Carnegie.
I don't recommend any other of Turnbull's many, many novels. For instance, I attempted to read her story "The Richlands" about a farming family in Westmoreland County. The book took place in the late 1800's – I think? Everyone travelled by horse. The farm boys had to physically build their own prep school. (Kiski Prep?) There was a creepy farmhand. The father fired the farmhand before he did anything exceptionally creepy, such as murder the wife and kids. Kinda disappointing. Turnbull forgot to include a plot in "The Richlands." NOTHING happened for 300 pages.
3.) Hannah's Town, by Helen Smith and George Swetnam
This book was "The Day Must Dawn" for kids. It followed a fictional girl named Hannah who lived in Hanna's Town and thought of it as "her town." Hannah's family very conveniently moved away from Hanna's Town right before the British and their Native American allies sacked and burned the town. The book was written in the style of Laura Ingalls Wilder's "Little House" books. I mentioned that I just finished reading a Thomas White book. Well, in the White book that I just finished, White specifically cited "Hannah's Town" co-author Geroge Swetnam as one of White's folklore sources.
4.) Grant by Ron Chernow
Grant was a biography of Ulysses S. Grant. Chernow also wrote the biography of Alexander Hamilton upon which Lin-Manuel Miranda wrote his Hamilton musical. In Grant, I learned that Grant's father, Jesse, actually lived in Greensburg (down the road from Hannastown) for years before he moved to Ohio and fathered Ulysses.
5.) The Johnstown Flood by David McCullough
I learned that in the aftermath of the Johnstown Flood of 1889, somebody fished a live baby out of the Allegheny River at Verona. (Verona is downstream from Parnassus (where I live) and upstream from Pittsburgh.)
6.) American Elegy: A Family Memoir by Jeffrey Simpson
Simpson wrote this memoir about several generations of his family who lived in the Parnassus neighborhood of New Kensington. His family lived on the same block on which I now live.
7.) The Girl Factory: A Memoir by Karen Dietrich
Dietrich grew up in Connellsville. She wrote this book about her experiences in elementary and high school in Connellsville. I read this because I saw a write-up for it in a Pittsburgh newspaper. I included it here because the author is my age. She graduated from high school with a whole bunch of people who then attended college with me. Then, even though she didn't go to college with me, she eventually (briefly) taught creative writing at my old college. I read this book while wondering the entire time if she wrote about anybody that I recognized. I did not recognize anybody. Maybe I'm not very perceptive.