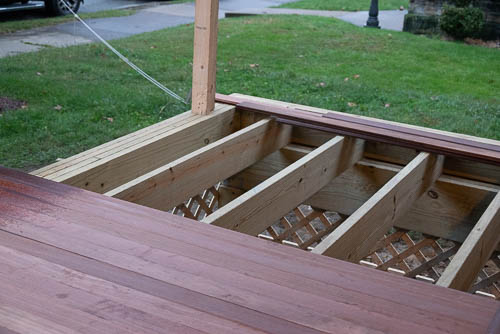 I intend to bore you for several paragraphs if you don't have any interest in Parnassus or its history. But – I wrap up this blog post by talking about controversial old houses in other states. Maybe that's more up your alley.
So, in 2014, Jonathan and I truly believed that we were going to get a new porch very soon. Our house was built in the 1890's. Jonathan blogged about our house's history here on our other blog in 2014. Heck, in 2016, we still thought that we were going to get a new porch in the immediate future. I was so optimistic in 2016 when I blogged here.
We were so naive.
The good news is, if you visit the first link that I posted, you can read Jonathan's write-up about the first owner of our house, Frank R. Alter Sr., co-founder of the Keystone Dairy Company. Keystone Dairy Company was also located here in Parnassus, New Kensington.
So, anyway, by 2014 we realized that we needed to hire somebody to tear off our circa 1930's front porch and replace it. You know, before this porch affected the entire house's structural integrity. A contractor tore off the 1930's front porch and started to replace it. Started to replace it. After that, from 2014 until the near present day, things did not go at all the way that Jonathan and I expected. Just one setback after another. I haven't had a porch on which I could sit with Jonathan since 2014.
I didn't mention any of this on my blog in September because I was afraid that I might jinx this. I still might jinx it. I'm still holding my breath out this. However, it looks as if Jonathan and I are going to be able to sit on our porch together again soon!
You see, we finally found a new contractor who actually committed to building a new porch for us. During this past September, this contractor's crew tore off the "porch" that the previous contractor started to build in 2014. This new contractor started from scratch. His crew made a great deal of progress this past month.
I posted above a photo that I took today. I took that photo from the approximate spot at which I used to sit and blog, prior to 2014. From the approximate spot at which I am blogging this right now!
You see, years after the porch saga started in 2014, Jonathan lost his mother and then I lost my own mother. I came home from each of their funerals and thought, "Now she's never going to see how nice our house looks with a finished porch!"
I promise you that if I die before this porch is completed, or even if I die after the porch is completed but before I have time to enjoy the new porch, I will come back and haunt this place. I will stand on this porch and bug the crap out of whoever enjoys it in my stead. You better hope that my two shots of Pfizer actually work.
I am an extremely privileged and semi-educated. I said what I said partially in jest. But partially not in jest. I associate the entire porch saga with family tragedy. I can't believe that I might finally see the end of the porch frustration.
We still have a long way to go on the old house work. We need to think about replacing the entire back "mud room" next.
I wasn't a very ambitious 12-year-old. I wanted to do two things in my adult life:
1.) Live in a house built in the 1800's.
2.) Have a cat. (My parents wouldn't let me have a cat.)
I accomplished both of these goals that I set for myself at the age of 12. So, I win!
I wish that I could go back in time and tell myself about the realities of life as an old house owner. Not even my own experiences in Parnassus, but also about other people's experiences.
North Side / Allegheny West, Pittsburgh
For instance, Jonathan and I used to take tours of Pittsburgh's North Side / Allegheny West neighborhood. On one of of these tours, we visited a home that the homeowners spent the past twenty or so years renovating. We toured a beautifully restored parlor and dining room.
Then, as we walked towards the kitchen, the homeowner said, "We are currently working on the kitchen."
The kitchen was a pile of bricks.
Literally.
A pile of bricks sat in the kitchen.
The McPike Mansion in Alton, Illinois
I have an old house renovation horror story that I learned about from podcasts and Facebook. Whenever I feel down about the lack of progress on our porch, I think about the McPike Mansion in Alton, Illinois.
At least Jonathan and I don't have as many old house problems as do the owners of the McPike Mansion.
Now, everything that I know about the McPike Mansion, I learned from Season #1 of the American Hauntings podcast hosted by Troy Taylor and Cody Beck, some Google research, but mostly just from lurking on the McPike Mansion's official Facebook page and official website.
A rich businessman built the McPike Mansion shortly after the Civil War. The house has not been occupied since the 1950's. The McPike mansion is now on the National Register of Historic Places.
From what I understand, the McPike Mansion is not currently approved for occupancy – except for the wine cellar. The current owners, Sharyn and George Luedke, purchased the mansion in 1994. I learned from American Hauntings that the Luedke's had been led to believe that they would be eligible for some sort of grant money to renovate the place. This turned out not to be the case.
It is my understanding that the Luedke's intended to renovate the mansion into a bed and breakfast. They have owned the house – and worked on the house – since 1994.
It is STILL NOT CLEARED FOR OCCUPANCY.
Since 1994.
The Luedke's have been working on trying to restore this house FOR ALMOST 30 YEARS, and they still can't let guests sleep inside the place.
I learned from reading Facebook that the Luedke's raise money for the old house renovation by:
1.) Renting out the wine cellar for parties.
2.) Selling tee-shirts. (More on that below.)
3.) Letting people "sponsor" and sign pieces of lumber.
4.) Selling tickets for ghost tours of the wine cellar and premises.
That's right – ghost tours.
The McPike Mansion in Alton, Illinois is regionally famous for being haunted. That's how I found out about the place.
And, to me, this "ghost tour as a profit center" thing is a double-edged sword.
One the one hand, the Luedke's sell tee-shirts that say "McPike Mansion" above a graphic of a cute ghost.
On the other hand, thrill-seekers, vandals, and thieves show up on a regular basis and damage the place. In fact, even the McPike Mansion's sign got stolen at least once.
I got exhausted just reading about the saga on Facebook. I mean, at what point does this turn into Captain Ahab's search for the White Whale in Moby Dick?
Sauer Castle, Kansas City, Kansas
Another "old house in need of repair" that fascinates me is Sauer Castle in Kansas City, Kansas. This was another mansion built in the 1800's by a rich guy. It is listed on at least one "endangered historic structure" list. There is a Facebook group devoted to the castle that has over 12,000 members that I used to follow. However, from what I understand, Sauer Castle is privately owned and the mansion's owner did NOT manage the Sauer Castle Facebook page. The last time that I followed this Facebook page, I noted that almost all of this Facebook page's posts criticized the current owner for failing to maintain Sauer Castle.
Sauer Castle has a long history of family tragedies, ghost stories, and vandalism. Nobody currently lives in the place. From what I understand, a descendant of Sauer Castle's original owner purchased the place several decades ago with the intent to restore it. However, after several vandalism incidents, he halted the restoration efforts and he also refused to sell the place to a developer that expressed interest in restoring it. Every article that I Googled about Sauer Castle regurgitated the controversy between the current owner and preservation advocates.
Bachelor's Grove Cemetery, Illinois
If you're still bored, Google "Bachelor's Grove Cemetery" in suburban Chicago. Some people claim that this cemetery holds magic powers. Other people claim that the only magic power found at Bachelor's Grove is the ability to turn grown adults into quarreling children. Google and Youtube have a bunch of stories about Bachelor's Grove enthusiasts calling the police on other Bachelor's Grove enthusiasts for having "unsanctioned" cemetery clean-ups there, people showing up drunk at other people's houses in the middle of the night just to yell at them about Bachelor's Grove-related disputes, and people trying to get other people fired over community events held at Bachelor's Grove. It's an easy way to waste several hours.
Thank you for coming to my TED Talk. Hope to post photos of a completed new porch soon.