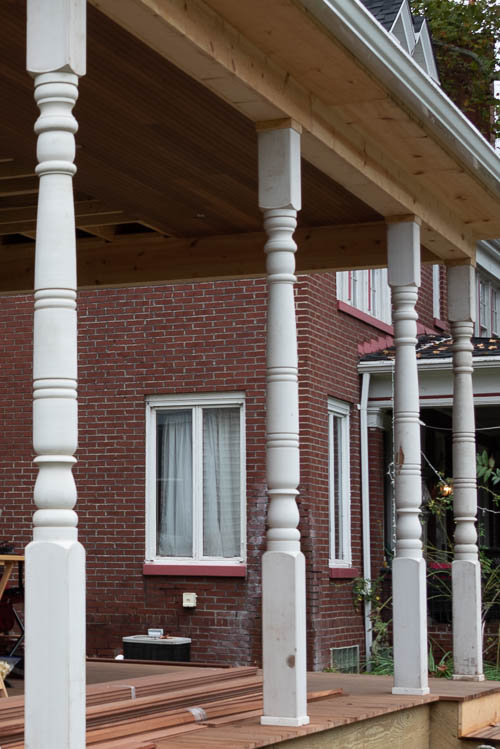 Our new Victorian porch now includes all of its Victorian columns.
One of our neighbors stopped on her Sunday walk to tell us how excited she was to see that our porch contractor was "able to save the house's original columns" for our porch rebuild.
Jonathan explained to our neighbor that these columns AREN'T the house's original columns. However, we know exactly what the original columns looked like. Our new columns are close reproductions of the original.
Jonathan DID NOT explain to our neighbor that in our quest to identify the house's original columns, Jenny saw a ghost.
Jenny saw several ghosts, in fact. Maybe.
I am Jenny. I am a semi-educated adult. (I don't usually refer to myself in the third person.) I do NOT walk through most of life talking about ghosts all day. However, it's almost Halloween. So, for the pure entertainment value, let's talk about my "experiences" seeing things that "might be ghosts."
Jonathan and I attempted to have the porch rebuilt starting in 2014. (We had several, ahem, "false starts" with contractors and vendors as we planned our porch rebuild.) Jonathan attempted to figure out what the original 1890's porch – especially the original porch columns – looked like. We had seen photos of what our house looked like during the 1936 St. Patrick's Day Flood that hit Pittsburgh and also a bunch of the other river towns in Western Pennsylvania. (The flood waters went up to the intersection of our street, which is why our house is in the background of some of these flood photos.) We knew that the house's original 1890's front porch was replaced in the 1930's. (The 1930's porch was the porch that we had removed in 2014.) So, the photos that we saw of our house during the 1936 flood included the 1930's era porch, not the original 1890's porch.
Sometime around 2014, I fell asleep in my bed. Jonathan was still awake. I sat up and said the following to Jonathan:
"Jonathan. The people in the hallway want to talk to you about the porch."
Or – I said something to that effect. I don't remember what exactly I said because I don't remember ever saying this.
I was asleep when I said this. Dead asleep.
What I do remember is that during my sleep, I saw people standing in our upstairs hallway.
All of these people wore clothing from the late 1800's, early 1900's.
These were the people who wanted to talk to Jonathan about our porch.
Spooky!
Shortly after this happened, Jonathan went through random piles of stuff that previous owners of our house left in our basement.
Jonathan uncovered one of these piles and discovered two of the house's original porch's columns.
Here is a photo of one of these columns. The photo is so dark because Jonathan never brought the columns out of our basement. They are heavy.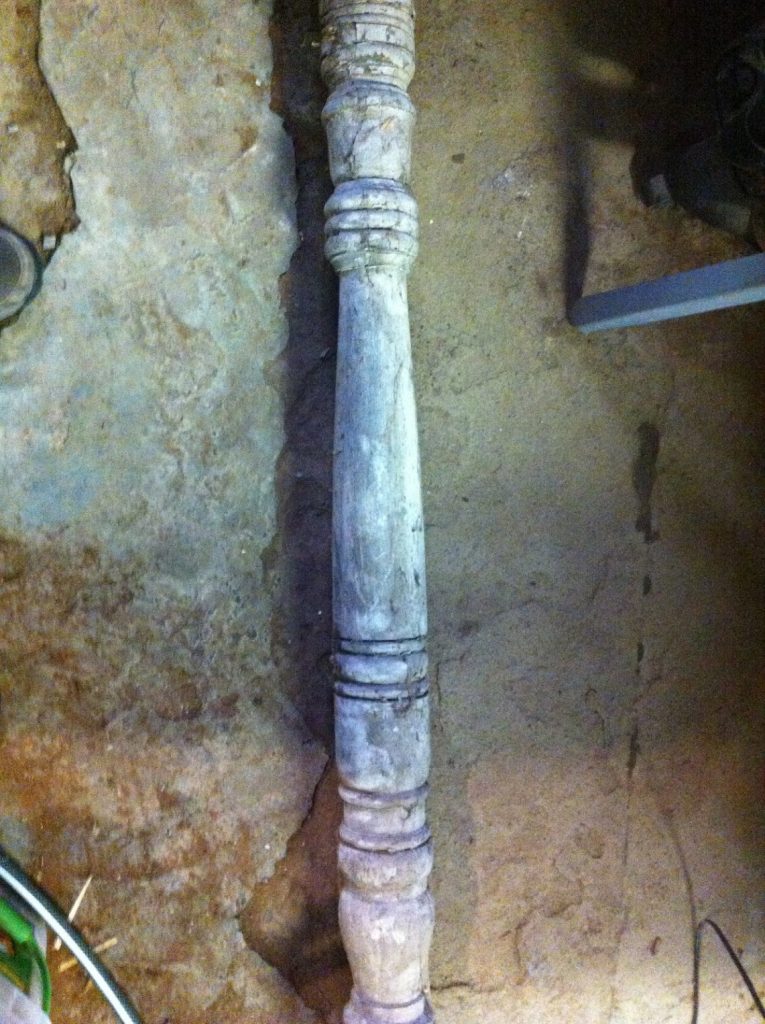 Circa 2014 or 2015 or 2016, Jonathan located a company in Texas that produced several of the most popular styles of Victorian-era porch columns. We ordered from this company the porch column style that most closely matched the original columns that Jonathan discovered in our basement.
So, we ordered and paid for these Victorian porch columns circa 2015 or 2016.
The porch columns arrived to us from Texas via a tractor trailer.
There wasn't enough room for the tractor trailer to park along the street in front of our house. The truck had to park on the next block over. Jonathan had to enlist the help of the truck driver to carry the porch columns over to our house.
The porch columns sat under a tarp in front of our house from that day in 2015 or 2016 until September – October 2021.
We have waited ever since at least 2015 or 2016 to see these columns installed on our rebuilt porch.
We got to realize our Victorian porch column dream last week. Last week, our porch contractor's crew installed the final column on our porch.
I can't believe that I finally got to see these porch posts installed on our rebuilt porch. Jonathan's mom died in 2016 and my mom died in 2018. When we started to plan our porch rebuild in 2014, I never dreamed that both of our moms would be gone before we could sit on our porch again. Within a week from today, I will observe both my mom's birthday AND the anniversary of when she passed away. (I actually said good-bye to my mom ON her 64th birthday and she passed away less than 48 hours after this.)
The YEARS of delays on our porch rebuild demoralized both of us. We weren't exactly twiddling our thumbs during these years. Jonathan attempted to hire contractors, find suppliers, etc. We hired an architect. We are so thankful that we found our current porch contractor.
We heard that at least one passer-by asked our current contractor's crew whether somebody new just bought our house. I guess that they were trying to figure out what prompted the sudden porch activity after years of "inactivity."
I can imagine this passer-by thinking, "So, is this place Under New Management now, or what?"
I guess that they never attempted to rebuild an 1890's porch before.
I told Jonathan that I was going to start a local rumor that the influencer couple from "Young House Love" actually bought our house for their next social media project.
"What's Young House Love?" Jonathan said.
I explained that Young House Love was an old house renovation blog from about a decade or so ago. The married couple who wrote it branched out to Instagram and sponsored posts, and soon they were rich and famous. They were a brand.
"You should turn this house into a brand," Jonathan said.
Perhaps I will turn this house into a brand.
How does "Porch Column Ghost Love" sound?