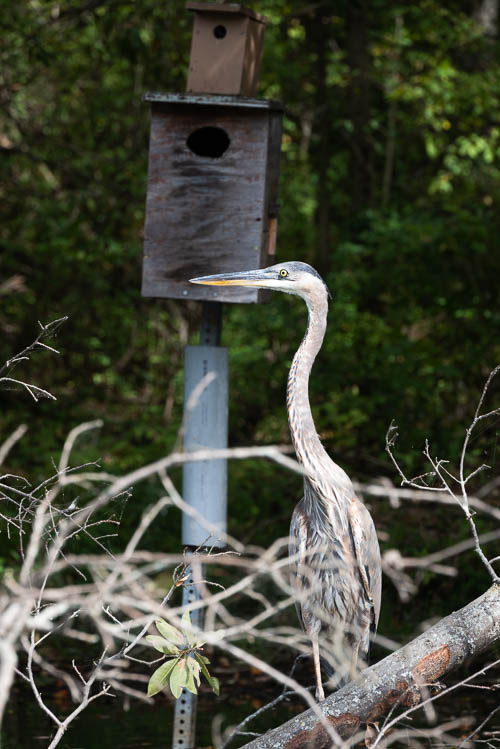 I'm not a bird or fish expert. I took "Biology for Dummies" at Saint Vincent College. (The class was officially titled "Biology for Non-Science Majors" or something.)
I have this weird obsession for bird photography, though. I spent an afternoon in St. James Park in London once. I took something like 300 photos of ducks in the pond there. I had more pics on my memory card of ducks than I had of Buckingham Palace.
I just lose it when I see heron. I'm not the world's most observant person. Still, I remember the first time that I saw a heron "in the wild" here in Western Pennsylvania. I was an adult. We were driving on a highway that spooned a creek. I yelled, "Hey, there's a heron standing in the creek!"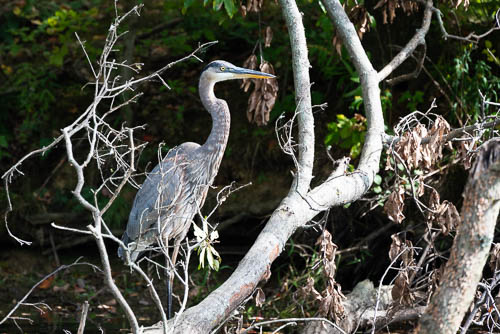 Now, in the warm months, I see at least one heron fly directly over my backyard in Parnassus. Same time each evening. Perhaps my yard sits under the flight path between Pucketa (Puckety) Creek and the Allegheny River? What do you think? Again, I took "Biology for Dummies." My bird knowledge comes from the Audubon Society's website.
I have a lot of, ahem, "feelings" about the air and water quality here in Western PA. I grew up in rural Central PA and in the rural Laurel Highlands. My mom grew up in Pittsburgh. I travelled to the 'burgh to visit her family. I don't mean "the affluent suburbs outside of Pittsburgh." I mean Carrick and Brownsville Road.
One of my strongest memories about Pittsburgh from back then was the smell. Everything smelled like sulphur. You know, because of the mills. I was born just about the time that the Pennsylvania steel industry started to collapse. It collapsed all throughout my childhood. Here's the thing that gets me though: Mom lived in Pittsburgh from birth to age 20. She lived in rural PA for the rest of her life. Mom never smoked. (I smoked occasionally when I lived on my own. But my mother never smoked. She never lived with a smoker.) My mom died of lung cancer two days after her 64th birthday. So, yeah, even non-smokers get lung cancer sometimes. Pittsburgh's air kill my mom?
Back to the birds. From what I understand (again, from "Biology for Dummies" and some internet science articles), Western PA was filthy for decades. Then, a bunch of folks tried to clean up things. In fact, Saint Vincent itself has a cleaned-up pond. Now we're sort of a kinder habitat for birds and such. Including my heron.
So, anyway, my employer held an Earth Day photography contest on its intranet. Prizes are bragging rights only.
Since I took millions of bird photos, I entered one of these for the contest. I posted a heron photo. I wrote in the caption that to me, the heron is a symbol of the air and water clean-up efforts here in Western PA.
Within hours of my posting about my heron excitement, this one employee (who I don't know) from another office (on the East Coast of the US) left a comment on my post. The comment went something like this:
"I used to have a Koi pond my backyard. The pond had about 20 fish that were all worth a great deal of money. One day, I came home and all of the Koi were gone. My neighbor showed me a photo of a blue heron sitting on my roof looking down at the empty pond. So, I blame the heron for eating all of my expensive fish. I had to close my Koi pond."
(She capitalized the word "koi.")
I have family friends who lost their own koi to raccoons. I'm sorry to hear this. They went out and got fencing to protect their koi pond from predators.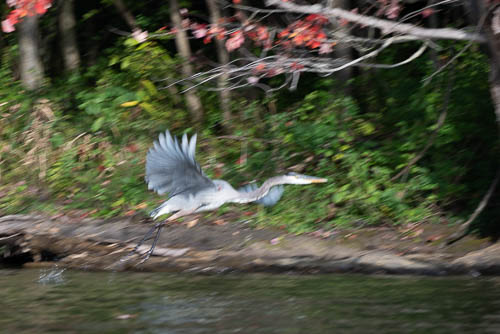 I learned from a five-second Google search that heron are native to our part of North America. Koi are not native to North America.
Really, how privileged do you have to be for you to view photos of an Earth Day contest, see a photo of a bird that's making a comeback in its native habitat, and complain that a bird from the same species ate your (non-native) exotic fish?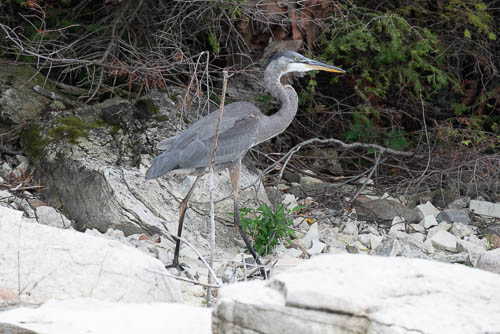 In honor of heron just doing their best to survive in their natural habitat on this Earth, here are a bunch of heron photos that I took.