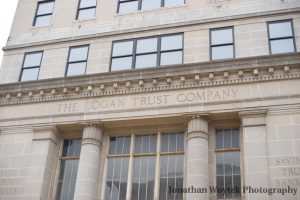 Vice President Aaron Burr shot and killed Alexander Hamilton.
Did he then hide out at the Logan Inn, mere blocks from present-day downtown New Kensington? Here in the land of Sheetz and the Black & Gold?
Or, did he flee to a different Logan Inn, in present day Flyers & Eagles Country?
Here is the link to Mrs. Luella Rodgers Frazier's "The Early Years of New Kensington, Pennsylvania." Halfway through this history, Frazier wrote that Alexander Logan owned the land that became Parnassus.
Frazier wrote that Aaron Burr stopped at Logan's property "for a few days" after he dueled Alexander Hamilton. Per Frazier, "the Logans did not know about the duel and did not recognize Mr. Burr."
As Frazier noted, Burr proceeded (by way of Pittsburgh) to Blennerhasset Island in the Ohio River.
Harman Blennerhasset owned the island and he allowed Burr, General James Wilkinson, and others to store men and supplies on the island in their bid to create a new nation in the southwest.
Burr's accusers arrested Burr in Alabama. They chained him. (This, during a time when men chained their slaves. During a time when Burr's own son-in-law owned a plantation.) The accusers brought Burr to Virginia in these chains. They tried him for treason.
Burr won his freedom by acquittal.
This follows the history and lore of Aaron Burr.
History buffs know about the Logan family's prominence here. I even added to this blog post the photo that Jonathan took of the former Logan Trust Company in downtown New Kensington.
However, ANOTHER Logan Inn on the opposite side of PA – along Ferry Street in New Hope – also claims that THEY hosted Burr after the duel. The OTHER Logan Inn markets itself with Aaron Burr lore.
Perhaps Aaron Burr did in fact shelter at two Logan Inns, on opposite sides of the state. Perhaps both ends of the Pennsylvania Turnpike own this story.
What do you think?
Here's my post from my other blog about the novel My Theodosia by Anya Seton.