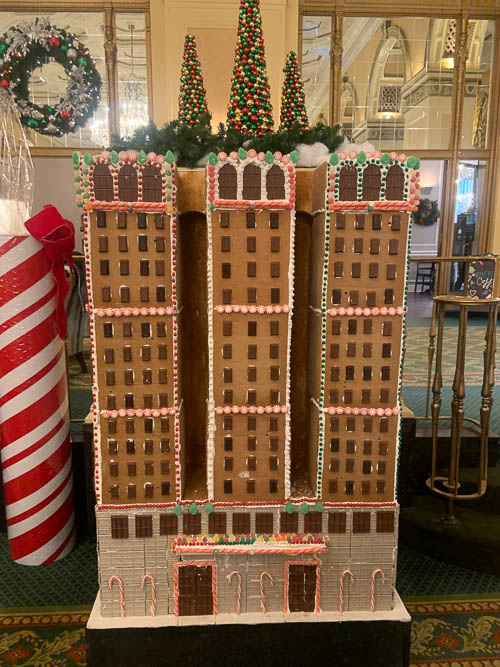 Up until mid-March 2020, I commuted into downtown Pittsburgh almost every weekday to my job. I now telecommute for this same employer from my dining room in Parnassus.
My employer's Pittsburgh office is several blocks away from the Omni William Penn Hotel. The hotel was built in 1915-1916. Omni purchased it in 2001. So, for the rest of this blog post, I will just refer to this hotel as the "William Penn."
One morning in November 2019, I walked to the Starbucks that is located inside the William Penn (and which opens into the hotel's lobby), and then I sat in the lobby with my coffee and enjoyed the hotel's holiday decorations.
This was less than a week before downtown Pittburgh's 2019 "Light Up Night." The hotel's hardworking staff decorated the lobby ahead of this event. I watched many Starbucks customers pull out their smartphones and take photos of the gingerbread house built to look just like the William Penn's facade. So, I too took a smartphone photo. I didn't think to take photos of anything else in the hotel lobby, such as the enormous and fully decorated tree.
I expected that this November or December, I would once again walk to the William Penn for a coffee break and holiday decorations.
Just for reference, here below are the only photos that I took of the William Penn's actual facade. I took these photos on December 13, 2011. Occupy Pittsburgh camped at Mellon Green, across the street from the William Penn. Wikipedia tells me that BNY Mellon filed in court on December 12, 2011, to end the encampment. So, the local news coverage from this filing must have inspired me to walk from my workplace (a financial services job) up to Mellon Green to sight-see the people who were protesting financial services industries (and the people who worked there). I did not actually interact with anybody "residing" in this encampment. I assume that many of them were away at class (Pitt, perhaps?) or their own jobs.