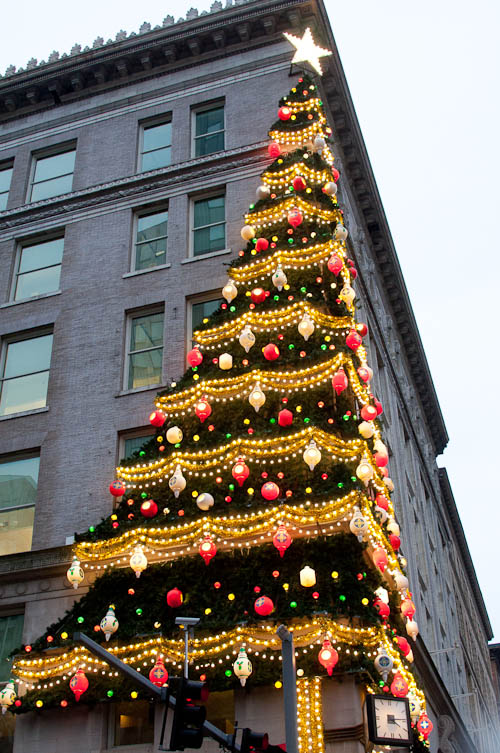 Pittsburgh had a department store chain called Joseph Horne's, or Horne's Department Store, or simply Horne's.
An electric Christmas tree decorated the building's corner each holiday shopping season.
Horne's merged with another chain in 1994. Then, the building which housed Horne's downtown flagship store became offices for an insurance company (Highmark).
However, this tree still graces the building each year from the week before Thanksgiving until New Year's.
Here is a photo of the building and its tree.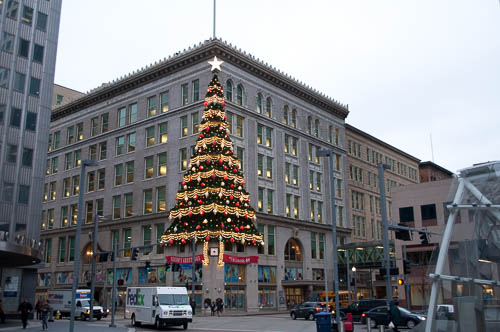 Everything that I know about Horne's Department Store came from "American Elegy: A Family Memoir" by Jeffrey Simpson. This particular book detailed the author's family's experiences in Parnassus, a sort-of Pittsburgh suburb. In the Chapter titled "Parties (Quint and Ruby)," the author wrote the following about his step-grandmother Ruby's affinity for shopping at the downtown Pittsburgh Horne's:
When my mother and Ruby were young women in the late 1920s and 1930s, there was a lounge on Horne's mezzanine where you could wait for friends. The lounge had a book in which you could leave messages for your chums if you had to leave early or had dashed up to Lingerie for a quick purchase while you were waiting; it was an amenity that seemed to belong to a period of orange minks and nose-tip veils, when girls fresh from college, eager with their first salaries, met "in town" for lunch on Saturday.
Simpson wrote that Ruby grew up "poor" and thus as soon as she received her first very own paycheck, she spent it at Horne's. Ruby referred to Horne's as the "good" store. She relished the chance to be seen shopping there. Simpson noted that the Parnassus community and Ruby herself thought that Ruby had married up (to a widower with a good family and a good job). That Ruby's clothes, purchased from Horne's, helped her to achieve this marriage.
Simpson concluded:
The Horne's boxes, cream-colored pasteboard with Jos. Horne Co. in light, bright blue on the lid, represented for Ruby the life she had made for herself.
My own maternal great-grandma worked for Horne's. However, I don't have any stories about her retail career.
I myself work directly across the street from the old downtown Horne's building. I never shopped for clothes there. I grew up in rural Pennsylvania. I started working in Pittsburgh years after Horne's closed.
When I interviewed for my job, the building housed an Old Navy store.
By the time that I started my job, the Old Navy was a Rite Aid.