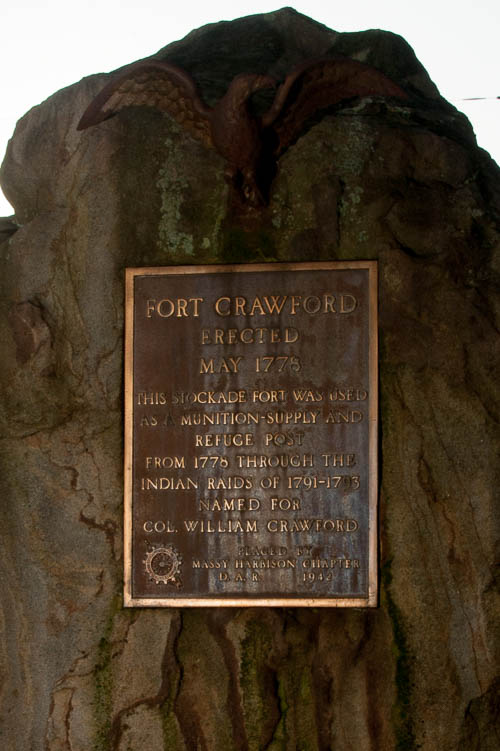 I just learned that Parnassus (in New Kensington, PA) shares a man's brutal life story with downtown Columbus, Ohio. In fact, this story even left its mark on Columbus' current National Hockey League arena.
I discovered this from an episode of Haunted Talks – The Official Podcast of the Haunted Walk, hosted by Creative Director Jim Dean. In Episode 68 – Columbus Ghost Tours, the host interviewed the Columbus tour co-owner Bucky Cutright.
Cutright shared one ghost story from his tour – the tale of haunted (cursed, even) Nationwide Arena, the home of the Columbus Blue Jackets, an NHL team. Cutright revealed that the arena was built on the parking lot for the former Ohio Penitentiary.
Cutright noted that an indigenous Mingo village (Salt-Lick Town) once stood on this entire property. He talked about the village's destruction in 1774. He noted the tragic death toll of Mingo families, at the hands of white settlers led by a man named William Crawford.
"Wait a minute," I thought. "Our William Crawford?"
See, I live in the Parnassus neighborhood in New Kensington, Pennsylvania. Parnassus emerged from the remains of Fort Crawford, at the confluence of Pucketa Creek and the Allegheny River.
Colonel William Crawford's troops in the Continental Army built Fort Crawford in 1777. This was during the American Revolutionary War. Crawford previously fought with the British in the French and Indian War in the 1750's. Crawford survived the Battle of the Monongahela (Braddock's Defeat) in 1755. Crawford knew George Washington!
I Googled "William Crawford" and "Columbus." I saw the portrait of the man who led the attack on Salt-Lick Town in present-day Columbus. This was indeed "our" William Crawford!
Now, to be clear, I do realize that William Crawford doesn't "belong" to New Kensington. Crawford was born in Virginia. Connellsville, PA, reconstructed his Pennsylvania log cabin. Crawford County, PA, was named after William Crawford. Crawford County, OH, was also named after William Crawford.
I just read a bunch of Crawford's top Google search results. I skimmed his Wikipedia page. He incites controversy today. He led military expeditions during a time when colonial America was at war with various Europeans and also with various Native Americans. Carnage resulted. I could write an entire blog just on Crawford's bloody travels and still not get my hands around his legacy.
For instance, Crawford entangled himself in Lord Dunmore's War. The white settlers and the Shawnee and Mingo tribes attacked each other in this conflict. Virginia and Pennsylvania also violently challenged each other over their border, including a chunk of Western PA. The Heinz History Center in Pittsburgh has an exhibit about this.
Let me tell you a little bit about how Colonel William Crawford died.
First, keep in mind that the American Revolutionary War ended in 1783. However, in the years before this, the settlers in colonial Pennsylvania and Ohio fought the British and they also fought assorted Native American communities. The settlers killed Native Americans, and the Native Americans killed settlers.
In 1778, Crawford led an expedition of colonial settlers that massacred a village of Native American women in Ohio. (The men who lived in this village were away from home at the time.) This colonial expedition included a guide named Simon Girty.
Girty witnessed the slaughter of these Native American women. He later expressed his revulsion for this violence.
Girty returned to his "home base" at Fort Pitt in Pittsburgh. However, Girty then fled west from Pittsburgh. Girty defected from the colonial settlers and joined the British who were in Ohio and Detroit. (Again, this was during the American Revolutionary War against the British.)
The whole "Simon Girty thing" was a big deal at this time because Girty was a white man from Central PA who had been captured by Seneca warriors as a child. Girty grew up learning the Iroquois, Delaware, and Shawnee languages. Girty built relationships with several Native American communities. He worked as a guide and interpreter. Can you imagine the talent and "institutional knowledge" that he could provide to the British?
(Alexander McKee, of McKees Rocks fame, defected with Girty.)
Then, in 1782, Crawford led the Crawford Expedition against Native American villages along the Sandusky River in Ohio. These Native Americans and their British allies in Detroit found out about the expedition, and they prepared to engage it. These Native Americans and the British troops defeated Crawford and his militiamen.
A force of Lenape and Wyandot warriors captured Crawford. They tortured Crawford. They executed him by burning him on June 11, 1782.
Simon Girty was there, at William Crawford's execution.
In fact, witnesses alleged that Girty "egged on" Crawford's captors as they tortured him. Witnesses even alleged that Crawford begged Girty to shoot him as he burned alive, and that Girty laughed at Crawford.
Girty denied that he encouraged the warriors who tortured Crawford.
Girty settled in Detroit, among the British. Years later, Detroit became part of the United States and Girty fled to Canada. At least one internet source listed Girty as a Canadian historical figure. I learned that Girty's name appears on an Ontario memorial for "Loyalists" (to the British Crown).
The Pennsylvania Historical and Museum Commission (PHMC) dedicated at least two plaques in Girty's memory. (To my knowledge, the PHMC dedicated one plaque to Girty in Pittsburgh (near the Waterfront shopping district) and another plaque to Girty along the Susquehanna River in the Harrisburg area. This second plaque commemorates Girty's birthplace in Perry County. I remember this because I was also born in Perry County.)
Now, Hannastown was the first county seat of Westmoreland County, PA. I read that the town lost a significant portion of its able-bodied fighting men in the Crawford Expedition. On July 13, 1782, Seneca warrior Guyasuta and his men burned Hannastown and its crops. Greensburg became the county seat after this.
If you want to read historical fiction in which William Crawford and Simon Girty appear, then I suggest "The Day Must Dawn" by Agnes Sligh Turnbull.
(Postscript, 09/16/20: Per the photo at the top of this blog post, there is a MONUMENT to Fort Crawford AND to Colonel William Crawford still standing in my neighborhood! How surreal, right? The Daughters of the American Revolution (you know, the DAR, the lineage-based social organization featured in the Gilmore Girls?) dedicated it in 1943.)