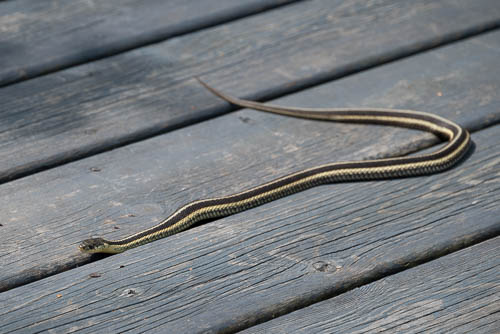 Look, a snake! Photo by Jenny Gaffron Woytek
My sister E. and I attended a Taylor Swift-themed dance party this past July. Imagine a black box theater packed with Swifties. In Virginia. (Okay, it was in Winchester. Old Town – Olde Towne? – Winchester. Directly across the street from a former courthouse-turned-Civil War museum.) The bar sold Taylor Swift-themed cocktails. There was a backdrop where we could take selfies in our ERAS ensembles.
Two men tried to crash the event in search of a woman from Tinder who told them that she couldn't meet up with them because she had a ticket for this. Security wouldn't let them inside. The event was sold out. They stood outside the door with the smokers and waited for the poor woman. Failing that, they tried to pick up anyone who made eye contact with them. The Swifties weren't having any of this. My sister and I left the venue dehydrated and exhausted. It was fun.
On the drive back to Pennsylvania at the end of our weekend, we discussed an internet rumor. Apparently Taylor is a high priestess in a Satanic cult? She drops clues about her allegiance to the devil in her music videos? Something about snakes? And that's the "obvious" explanation to her success?
I didn't follow the exact details. I burned too many brain cells in the past few years. I'm sure that you can find it through a Google search.
Here's what I told my sister about Taylor Swift's pact with the devil: "They ripped that off of the myth of Robert Johnston!"
Robert Johnston was a blues musician. He went down in history for being one of the best blues musicians in American history. He was a black man who grew up in the Jim Crow South – in Mississippi. He died at the age of 27. (So, his story shows up in the Curse of 27 – also called the 27 Club – the legend that gifted musicians are fated to die at the age of 27.)
The other legend about Robert Johnson was that he started his musical career by being a really, really bad musician. So bad that at least one venue that booked him set him home early because he was so awful.
Then, he showed up for a gig one night and he was really, really good. And this was because he stood at a crossroads at midnight and made a pact with the devil. He pledged his soul to the devil in exchange for phenomenal musical talent.
Here are some podcasts that explore the story of Robert Johnson in more detail:
Radiolab – April 16, 2012 – Crossroads
Supernatural with Ashley Flowers
So, how do you explain the musical success of an impoverished African American in Mississippi in the 1930's?
How do you explain the musical success of a woman named Taylor Swift? A woman whose fans are so devoted that they will reject men from Tinder so that they can celebrate her music with fellow Swifties?
I'm not a Swiftie. My husband Jonathan and I listen to Taylor Swift on vinyl, but Jonathan is the one who purchased the album. We planned to attend one of her concerts with some of my sisters. None of us were able to get tickets, so that was that. Jonathan and I could have stood outside of the stadium to listen when Taylor performed in Pittsburgh (lots of Swifties did this), but instead we spent that weekend on our boat on Lake Erie. Couldn't pass up that beautiful sailing weather.
I actually travelled for a Taylor Swift dance party so that I could spend time with my sister. The dance party event was almost all women. There were a few men. Some of them wore rainbow clothing. At least one man wore a tee shirt that said, "I'm the husband, it's me." (It's a play on the lyrics "I'm the problem, it's me.") The man who wore this shirt seemed to be responsible for making sure that a group of women had fun. That is, he brought them drinks and stuff.
So, this was an event in which scores of women came together in order to celebrate with a bunch of other women, as well as a few men, but the women didn't seem to pay much attention to the men. Maybe the folklore about the devil worshipping and the snakes started because of this attitude. I didn't meet Satan that night. The only snakes that I saw were the ones on the screen from Taylor's one music video. I'm glad. Snakes scare me.