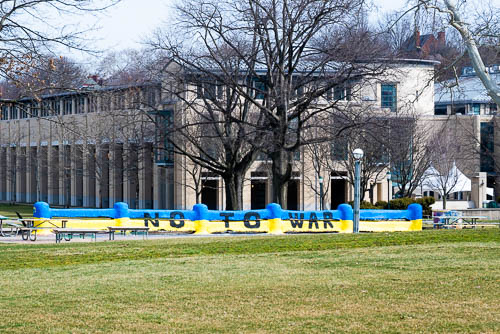 Carnegie Mellon University has a fence that gets painted a lot as part of a fun campus tradition. I'm going to link here CMU's own explanation of the fence painting. Everything that I know about the fence tradition came from the internet or from a random friend-of-a-friend who attended CMU. If you want more information about this, a Google search will serve you much better.
Carnegie Mellon is one of the most (very possibly the most) rigorous and respected schools in the Pittsburgh area. I'm not privileged enough or ambitious enough to have attended CMU myself. I know a lot of people who work for CMU. From what I have heard, CMU is a good employer. I even know a few highly gifted CMU alumni. I don't know any of them well enough to have heard any first-hand stories about this fence.
Anyway, here's a photo that I took showing the fence, painted with Ukrainian colors on March 11, 2022. My husband rents a parking space for his job on one end of CMU's campus. On March 11, he and I visited Phipps Conservatory. Phipps is located outside a different end of the campus. Rather than search for parking right outside of Phipps, we parked in my husband's "free" (that he already paid to rent) parking spot and walked across CMU's campus to reach Phipps.
I agreed to do this because I got a pedometer watch for Christmas. The walk across the CMU campus increased my step count on the watch.
Well, the path that we intended to utilize to cut across CMU was actually blocked due to a campus construction project. So, we detoured around campus. We saw much more of CMU's campus than we originally intended on seeing. We caught this glance of CMU's legendary fence.
I apologize that the photo is so grainy.
I could have gotten closer to the fence. I would have had to walk across a muddy field. I was already tired from walking around the construction detour. I'm still out of shape from sitting around and drinking all day during the 2020 Covid lockdown. (I'm kidding. Maybe. Why do you think that I had to ask for a pedometer for Christmas?) So, I took this photo from quite a distance away.
After I burned so many steps walking around CMU and Phipps, we walked to Schenley Plaza and drank bubble tea.
I'm old enough to remember when Schenley Plaza was just a parking lot across the street from the Cathedral of Learning. I rode with my friends Erin and Nate when Erin parked her car there once.
Erin said, "You know, they're going to replace this parking lot with a park."
I said, "But where will everyone park?"
Well, last month I learned that if you want to partially walk off your Covid binge pounds, you can park on one side of Carnegie Mellon, walk over to the other side of Carnegie Mellon, walk through Phipps, walk over to the former parking lot that is now Schenley Plaza, and then walk back to your parking spot at CMU.
Just take it easy on the bubble tea.