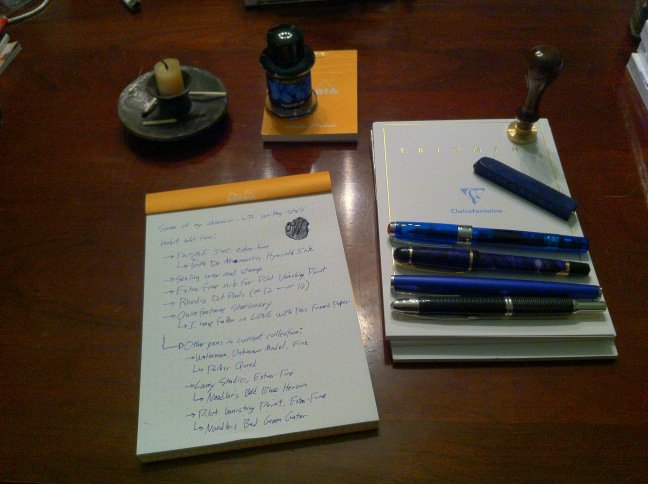 Thank you to everybody who read last week's blog post. An extra thank you to everybody who reached out to me after I posted it.
I forgot a pretty major part of last week's story about my struggle to learn about photography.
I forgot to tell you about how I almost cut off my finger.
In last week's blog post, I mentioned that I took a course on photojournalism during my final semester of college.
I NEEDED to pass this class in order to graduate. Saint Vincent required this class to graduate with a degree in Communications. Also, Saint Vincent charged tuition by the credit back then. I purposely took the absolute bare number of credits that I needed in order to graduate in order to reduce my student debt. So, I needed the three credits from this photojournalism class just to meet the minimum credit requirements for a bachelor's degree – any bachelor's degree.
I had a pretty eventful final semester of college. My youngest sibling was born less than two months before I graduated from college. (March 20, so happy belated birthday, Little Sister.) Now, my parents had FIVE children, not four children. I am the oldest of their five children. I absolutely could not just move back home with my parents for the next year or two until I found a well-paying job.
I worried about the photojournalism class until it made me sick. I KNEW that I would fail the class and NOT graduate on time.
Anyway, for our final photography project, we had to crop our photos and mat them for an exhibit to be held during finals week in Saint Vincent's student union, which we called "The Shack."
We held at least one workshop during class time to mat our photos. We each purchased Exacto knives and photography mats ahead of time.
Now, I will out myself about what a big idiot I can be. I don't have a very good track record with knives. When I was a kid, my dad gave me my very first Swiss Army Knife. The VERY NEXT MORNING, I watched a videotape of the musical "The Sound of Music" as I played with my new knife. I closed the knife on my hand. I cut myself. I didn't show my parents. They would take my knife away from me. I just grabbed a paper towel from the kitchen and pressed it against my bloody hand as I continued to watch "The Sound of Music." I quietly waited for my hand to heal.
Apparently, I didn't get any better with knife safety after I became a legal adult. I screwed up an entire bulk foil package of ketchup when I worked at Wendy's (next to the PA Turnpike in Somerset) the same month that I turned 18. I was supposed to cut it out of a cardboard box with a box knife. I used the box knife to slice through the bulk ketchup's foil container instead. The manager was pissed. She had me transfer all of the ketchup to another container so that most of it could be saved. I kept my job because apparently Wendy's Next to the Turnpike desperately needed employees.
Anyway. I know – NOW – that I must never, ever, ever cut towards myself when I cut something with a knife.
I apparently did not know this when I was a final-semester college senior.
I cut towards myself with the Exacto knife.
I sliced through the tip and side of one of my fingers.
As soon as I cut myself, I knew that it was bad. I sliced though the top of my finger and along the side a bit.
My finger bled.
I ran out of the classroom without speaking to anybody.
My dorm was connected by a walkway with the room where we held the photography mat workshop. The workshop was on the same level as the walkway, as was my dorm room.
I ran into the hallway of my dorm and showed my finger to my very good friend, "Saoirse."
Saoirse said, "I'm driving you to the hospital."
Saoirse drove me to the Emergency Room at the hospital in Latrobe.
We got to the ER. We arrived at pretty much the same time as a woman who came into the ER on a stretcher.
The medics said that the woman had just gotten hit by a car.
The woman said, "I can't feel my legs."
The ER triaged me ahead of the woman who got hit by a car.
That's right. I cut myself. At the hospital, I got to cut the line ahead of a woman who got hit by a car.
The ER sewed my finger back together. My finger eventually healed, just like my hand eventually healed that time that I closed a Swiss Army Knife on it.
Nobody in my photography class realized that I cut myself. Not the instructor. Nobody.
I returned to the classroom later that day and picked up the rest of my stuff. It was all still there. Even all of my photography workshop stuff. It was all exactly how I left it. Including the Exacto knife.
I got a B in the photojournalism class. I don't know how that happened, because my final project looked pretty terrible.
I will forever be greatful to Saoirse for driving me to the ER that day. Saoirse, if you are reading this, thank you.
After this incident, I dreaded ever matting anything again. So, maybe my fear and anxiety of photography actually all came from the day that I almost cut off my finger.
Years later, my husband Jonathan walked me through how to properly mount a photo – you know, how to do it without ending up in the ER. He helped me to mat a photo that I actually like for an exhibit that I actually wanted to enter.
So, maybe my key take-aways from this story is that I have a gem of a friend in Saoirse and I have a gem of a husband in Jonathan.
Also, be careful with knives.