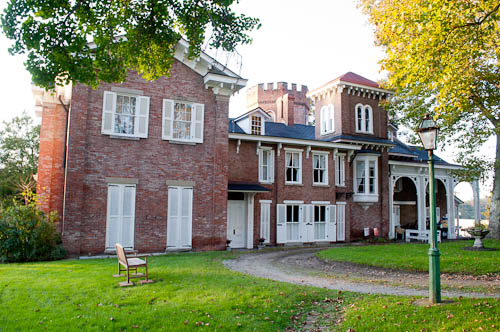 Firstly, I added a few more photos of downtown New Kensington. Some were of the December parade. I also added a photo of the new Anne Frank mural. You can click on the "Murals" tab in the last post to see all of my posts that include mural photos.
I have a new podcast rec for people who like spooky things. I personally listen to this on Spotify. If you don't do Spotify, it's available on other popular platforms. The podcast is "Ghost Tour" from Southern Gothic Media.
I'm already a HUGE fun of Brandon Schexnayder's "Southern Gothic" podcast. I'm such a fan that I joined its Patreon membership. So, I barked and drooled (not really) when Schexnayder announced that he partnered with Alicia King Marshall of Franklin Walking Tours to produce "Ghost Tour."
"Ghost Tour" currently has only one season. The hosts interviewed the owners and operators of ghost tour companies. I'm not talking about the "scare houses" with theatrical blood and gore and manufactured horror stories. Those are fun for some people. That's not the theme of this podcast. I'm talking about those research-based ghost tours at historically significant sites. For instance, in Episode #5, Alicia King Marshall discussed the ghost stories that Franklin Walking Tours told about the 1864 Battle of Franklin in Franklin, Tennessee. In Episode #7, the hosts interviewed Janan Boehme, the Tour Manager / house historian at the Winchester Mystery House in California.
"Ghost Tour" attracted me since I'm curious about how to create a historical ghost tour.
In other news, Troy Taylor from American Hauntings (a podcast, book, and ghost tour company based in Illinois) did a shout-out to southwestern Pennsylvania in one of his recent Zoom livestreams. He specifically referenced Nemacolin Castle in Brownsville. He also referenced the borough of California, Pennsylvania. Nemacolin Castle is a 1700's and 1800's -era home that I blogged about here. It sits on a cliff overlooking the Monongahela River (the Mon). It was built in sections over multiple decades. The same family lived in it from the 1700's up through the 1900's. Multiple ghosts from multiple generations reputedly haunt it.
My dad learned how to be a high school Special Education teacher at California University of Pennsylvania while he courted my mom in Pittsburgh. Dad refers to the school as "Harvard on the Mon." I was really excited to discover that I have a family connection to a place that Troy Taylor visited.
Taylor also gave a shout-out to a tattoo parlor that he patronized in that region. I'm trying to track down the name of this place so that I can get a tattoo from the same person who gave Troy Taylor one. I'm that much of a Troy Taylor fan.
Humor doesn't translate very well on the internet. I'm not really going to drive out to Brownsville just to do this. It's a 120 mile round trip from my house. Gas is expensive and I don't like to drive. I'm still glad that southwestern Pennsylvania made a good impression on Taylor. The American Hauntings podcast, hosted by Troy Taylor and Cody Beck, is available on Spotify, iTunes, and other platforms.