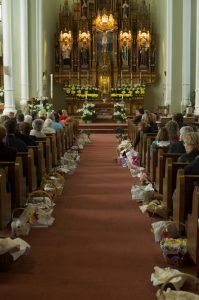 Holy Saturday morning in my house means a frantic "grocery store hop" in which we visit every store in New Kensington.
You see, families in our traditionally Polish Catholic parish in New Kensington assemble baskets of the food for their first meal on Easter morning. We bring the baskets to church Saturday for a short ceremonial basket blessing by our priest.
Our baskets include very specific foods, including beet horseradish. Every year, we forget to purchase beet horseradish until Easter weekend.
And of course, the store closest to our house is clean out of beet horseradish the morning of Holy Saturday. Because this store is, like, 2 minutes away from the church and other people beat (beet) us to all of  it!
So, we walk into our third store of the morning. We can buy the last remaining bottle on that store's shelf.
Then we meet up with our in-laws at the church. They tell us similar stories of frenzied dashes to assemble their baskets five minutes before the ceremony.
Then it happens all over again the next Easter.