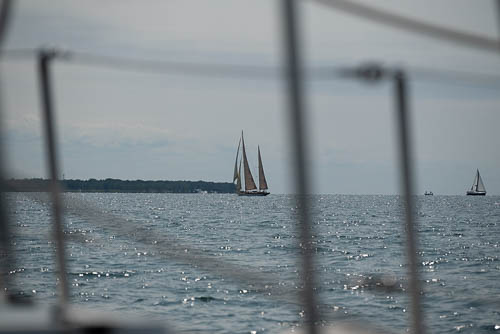 My mom, Shirley, was extremely gifted in the textile arts. Everyone who knew her well knew that she was really, really good at knitting, crocheting, needlepoint, sewing, and quilting. Anything that involved fabric or yarn, really.
One of my earliest memories involves a pink rabbit costume. Mom was under the impression that the town's trick-or-treating would be held on Halloween night. Well, about a week or so before Halloween, she walked to the post office. She learned from a postal employee that our community's Halloween parade and designated trick-or-treating hours were actually planned for THAT VERY EVENING. So, she booked it home and got to work on finishing the rabbit costume. It was ready for four-year-old me to wear just before the parade started.
Around this same time, Mom made me a pink (see a theme here?) quilt. She entered said quilt in the community quilt show. She took me to view this quilt show. I threw a temper tantrum when I saw "my" quilt in the exhibition, complete with a tag. How dare Mom attempt to sell "my" quilt!
I didn't legitimize my own mother's hand crafts. I don't excuse myself for this, but I think that this was because a lot of my mom's work fell into the arena of stuff that they did on "Little House on the Prairie."
You know – "Women's Work."
(By the way, I loved both the "Little House on the Prairie" books and the television show. Mom sewed me and my sisters bonnets and ruffled dresses so that we could be just like Laura Ingalls Wilder.)
But – Mom was an artist. Several years ago, Mom and I visited the Carnegie Museum of Art (in Pittsburgh) while my dad went hunting back home in Somerset County. Mom specifically requested that we view a special exhibition about the hand crafts of women around the world. A lot of the art in this exhibit were the exact same mediums that Mom had created for the people that she loved for decades.
That being said, in the last year or so of Mom's life, she decided to learn how to paint landscapes. She picked out painting supplies as her Christmas gift from my dad for from Santa Claus or whomever. She watched Youtube tutorials on landscape painting. She painted seashores. This was during the same year that she battled cancer.
Jonathan gives me photography lessons. Our photo outings got me through the chaos of the past few years. When I take photos of boats and birds and water, I feel the peace that I imagine that Mom felt when she painted beaches a few summers ago.
I and my two youngest sisters celebrated a June birthday by going to one of those places where you pay a flat fee to paint a sign. You know, where you can bring your own wine and charcuterie board, or your own beer and nachos, or whatever food and drinks make your own life worth living. It was fun. It reminded me of eighth grade art class.
I'm so grateful to my mom for teaching me to survive through life's rough patches by clinging to anything that gives me joy. Also, for finishing my pink rabbit costume at the last minute.