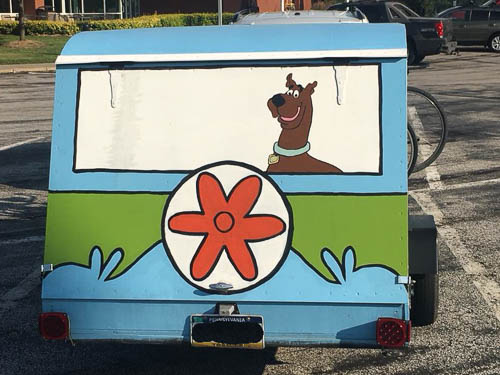 I've blogged in the past about my favorite spooky podcasts. In fact, here's my most updated list of 13 Haunted History Podcasts.
My list included Snap Judgement Presents: Spooked. Now, WNYC studios presented the podcast Snap Judgement. WNYC and Snap Judgement originally introduced Spooked to me. That's why I included the NPR link here.
Spooked later moved to a subscriber-only model on Luminary. However, Luminary occasionally releases former subscriber-only episodes to the public.
My iTunes and Spotify profiles both advised me that Spooked JUST released to the public a former subscriber-only episode titled "Fright At The Museum." The episode detailed a former museum intern's allegedly true experiences with ghosts at a museum which she referred to as The Hoyt.
I Googled "The Hoyt" and its alleged ghosts "Alexander Hoyt" and "May Emma Hoyt" and I discovered that "The Hoyt" is actually the Hoyt Art Center in New Castle, Pennsylvania.
New Castle is north of Pittsburgh and south of Erie in Western Pennsylvania. If you like to shop at outlet malls, note that New Castle is 16 miles south of the outlet mall in Grove City.
Through this podcast and my Google research, I learned that The Hoyt's physical location consists of the two adjacent, century-old mansions once occupied by the siblings May Emma and Alexander.
May Emma allegedly lived a Roaring Twenties lifestyle not approved by Alexander. Alexander allegedly burned May Emma's prized possessions after she died. Hence the ghost stories.
I learned that only very recently did preservationists undertake a major restoration project at The Hoyt. Restoration continues.
I understand. Jonathan and I live in a house built in the 1890's. Restoration continues at our establishment as well. In fact, I soon hope to blog about a major project at our house!
Once upon a time, I myself worked as a "sort of" intern at an old building-turned-art center in a recovering Rust Belt town. I worked as the "Events Coordinator" at the Bottleworks Ethnic Arts Center in the Cambria City neighborhood of Johnstown. (My placement came from participation in Americorps / Pennsylvania Mountain Service Corps/ PMSC.) The Bottleworks occupied (still occupies) a former bottle factory – hence the name. I never encountered any ghosts at Bottleworks, though. Maybe I just didn't pay enough attention.