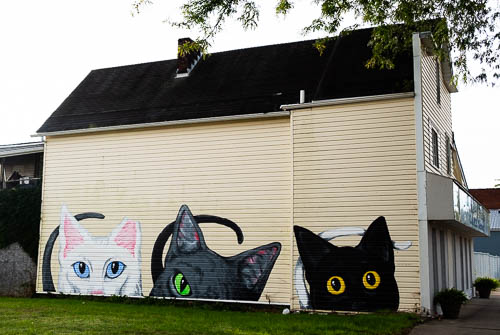 I get my ideas from other places, just like a lot of other people.
You're probably sick of hearing about this, but after Covid happened, I spent much time consuming Adam Selzer's "Mysterious Chicago" Facebook page. Adam turned each Monday into "Mural Monday." On each Monday, he posts virtual tours of himself walking around Chicago neighborhoods looking at murals. When he goes on vacation and his vacation happens to overlap with a Monday, he posts video of whatever town he happens to be in on that day.
So, New Kensington is in the process of being cleaned up and repaired. Preservationists secured funding to paint murals here. (Just like Chicago!)
I said to myself, "Jenny, you know of some people who used to live here, and then they moved away to other parts of the country. Maybe they would like to see these new murals."
I made this assumption because my mom moved away from the Pittsburgh neighborhood of Carrick in the 1970's and her parents left in the 1990's, but every so often, she and my dad travelled to Pittsburgh for various reasons and some of their trips included quick drives around Carrick.
I don't plan to do Mural Monday. I will just photograph and post murals when the mood strikes me, and then tag these posts with the "Murals" category.
So, here's a cat mural for you. This cat mural covers the side of the building occupied by Frankie's Friends Cat Rescue in downtown New Kensington. Facebook taught me that Raphael Pantalone painted this mural as well as additional cat murals inside the building.