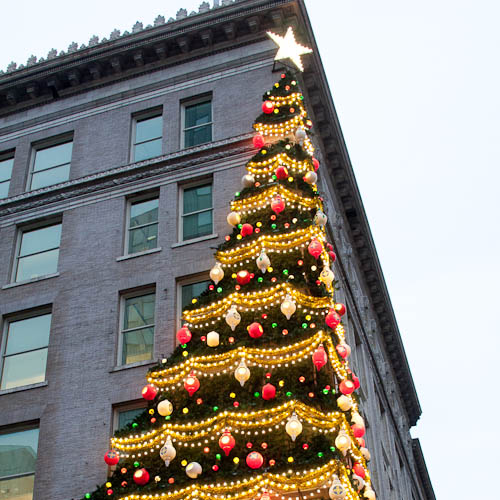 When I think of Christmas-time, I think about my times shopping at Fashion Bug.
Fashion Bug started as a women's clothing store in Eastern Pennsylvania decades before I was born. I think that all or almost all of the stores were located in Pennsylvania.
By the time that I was in junior high school, we had our own Fashion Bug in a strip mall in Somerset. I lived in Berlin, which was about ten miles from Somerset and 30 miles from Johnstown. So, we did most of our shopping in Somerset. I was so excited when I saw regular advertisements for Fashion Bug in "Teen Magazine," and then I realized that we had one of our very own in Somerset. I believe that this was the only time that I ever saw an advertisement in one of my magazines for a store actually located in Somerset.
I remember that the Fashion Bug ads included coupons for $10 off of a $30 purchase. The coupon was one big reason why I was permitted to purchase my eighth-grade winter coat from Fashion Bug in Somerset instead of from Kmart in Somerset. (Kmart and Fashion Bug shared the same strip mall in Somerset. Come to think of it, every single Fashion Bug at which I ever shopped was located in the same shopping center as a Kmart.)
After I outgrew "Teen Magzine," my favorite thing about Fashion Bug was the adrenaline rush that I got from thinking that I saved a TON of money from shopping there during a "sale." Everything that I ever purchased from that place included a price tag that indicated a significant price reduction. The store printed this same price reduction on the LONG receipts that I received with every bag of clothing. Every single item on my receipt would say something to the effect of "Full Price: $59.99. New Price: $14.99." Then, the end of the receipt would say: "Total: $34.99. You Saved: $2,999."
I once purchased a pair of sandals from Fashion Bug's clearance rack for a college function for $6.99. Unfortunately, the shoes were so uncomfortable that I only wore them one or two times.
By the time that I graduated from college, I purchased most of my office "work clothes" from Fashion Bug. Twinsets, turtleneck sweaters, etc.
One time, I watched a "Saturday Night Live" skit in which a contestant on a fake dating game show identified herself as a Fashion Bug employee. The punchline was that the contestant didn't have an opportunity to find love because she was too busy with her entry-level retail career at Fashion Bug. (I'm not laughing at retail employees. I worked in fast food next to the Pennsylvania Turnpike. I worked a low-paying retail job at a non-Fashion Bug clothing store. I worked in the shoe department at Walmart. I am sure that the "Saturday Night Live" show writers did similar.)
What does this have to do with the winter holidays? Well, I bought SEVERAL of my winter coats from Fashion Bug. I Christmas shopped there. I bought a New Year's Eve dress for my friend's 21st birthday party there.
I miss Fashion Bug.