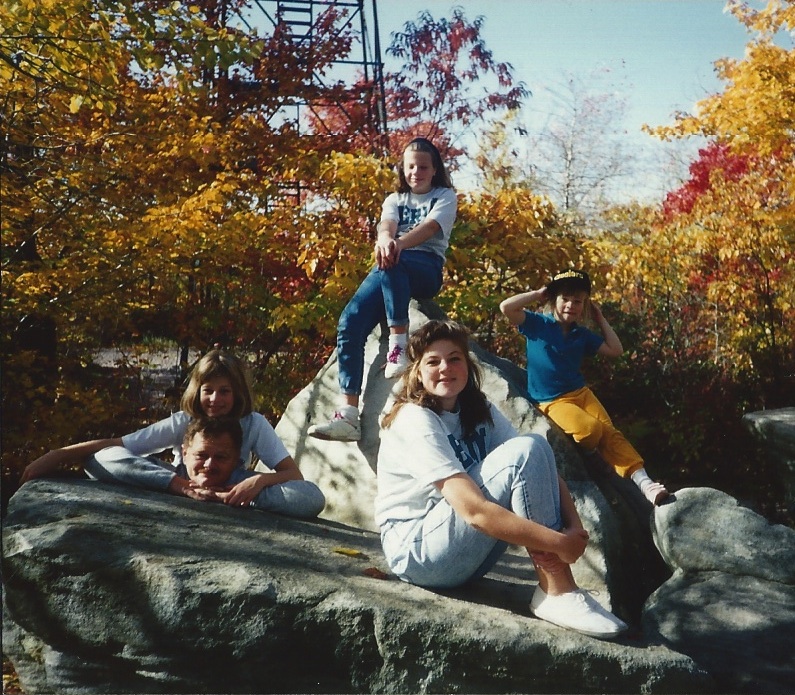 1.) Mount Davis is the highest point in Pennsylvania.
2.) The tallest rock shown in the above photo marks Pennsylvania's true high point. This rock includes a metal plate noting this. In the above photo, my sister K. sits at the very top of this rock.
3.) A 50 foot metal observation tower / fire tower  sits a few feet away from this rock that marks the true high point.
Planning Your Trip to Mount Davis:
1.) Mount Davis belongs to Forbes State Forest. Here are the maps from PA DCNR.
2.) Jonathan and I sometimes come up here to escape Pittsburgh-area heat waves. Keep that in mind when you choose clothing for your trip.
3.) You can travel between the High Point and the Mount Davis Picnic Area by car or by foot on a CCC trail. The picnic area includes picnic tables, a pavilion, and a primitive restroom. However, note that there is no place to shop or buy gas on the summit. If you intend to travel south from Meyersdale to Mount Davis, note that Meyersdale is the closest place where you can purchase any of these things.
Watch your speed and watch out for Amish buggies. Be especially careful on Sundays. This area hosts many Amish farms, and the families who live here travel for Sunday worship. The first time that I brought Jonathan to Mount Davis, we missed the sign for our turn-off from Route 219 in our diligence regarding the buggies.
Enjoy your trip!