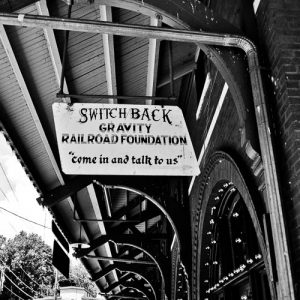 Have you ever heard of Mauch Chunk, Pennsylvania?
Well, then. Have you ever heard of Jim Thorpe, Pennsylvania?
In the 1950's, the officials of Mauch Chunk renamed their borough "Jim Thorpe" after Olympic athlete Jim Thorpe. That whole story deserves its  own blog post. (Or its own blog.)
The humans cognizant in the 1820's still spoke of this Lehigh Valley town as "Mauch Chunk." Many earned their livings from the coal mined above this town. In the 1820's, they built the Switchback Gravity Railroad from these coal mines.
The railroad used gravity to transport the coal down the mountain, past Mauch Chunk. This "railroad" used mules to haul the empty coal cars back up the mountain.
Eventually the railroad offered rides to tourists on this gravity railroad. This inspired the first roller coaster at Coney Island.
If you want to read about Mauch Chunk ghosts, check out this post that I wrote on my other blog:
Here is a blog post that my sister wrote:
5 Reasons To Visit The Jim Thorpe This Halloween Season (or anytime)