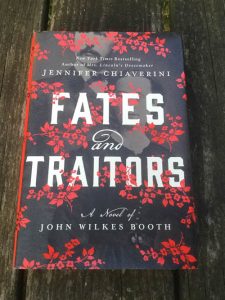 This spring, author Jennifer Chiaverini released Resistance Women, a novel about the German Resistance in World War II. The protagonists in this novel included Mildred Fish Harnack, a Wisconsin native whom the Nazis arrested for spying. Adolf Hitler personally ordered Harnack's execution. Resistance Women reached bestselling lists and garnered accolades this summer.
I didn't read Resistance Women (yet). Instead, I read Chiaverini's 2016 historical fiction Fates and Traitors: A Novel of John Wilkes Booth.
In case you're not an American, actor John Wilkes Booth assassinated President Abraham Lincoln at Ford's Theater in Washington, DC, in April 1865.
"Fates and Traitors" told the story of Booth and these four women who "loved" him (according to the book jacket):
1.) his mother Mary Ann Booth;
2.) his sister Asia Booth Clarke;
3.) his secret fiancée Lucy Hale (the daughter of an abolitionist Republican senator from New Hampshire); and
4.) boardinghouse owner Mary Surratt. The United States government executed Surratt over her alleged role in the Lincoln assassination.
Now, before I get into too much detail about Fates and Traitors, I want to use Chiaverini's work to explain one reason that I love historical fiction so much.
Chiaverini's published historical fiction highlighted these families (among others): the Booths, the Lincolns, the Chases (Salmon P. Chase and daughter Kate Chase Sprague), the Grants, and the Byrons (Lord Byron and daughter Ada Lovelace).
The historical characters in Chiaverini books discussed the characters from other books.
For instance, several of the historical figures from Chiaverini's other books (including Abraham Lincoln) went to see the Booth brothers perform prior to the Lincoln assassination. Several of the historical figures from these books enjoyed reading Lord Byron's poetry. Several of the historical figures from these books gossiped about Kate Chase Sprague's political ambitions for her father. Several of the historical figures from these books observed Mary Lincoln's fine wardrobe. In Fates and Traitors, John Wilkes Booth stalked both the Lincolns and the Grants prior to the Lincoln assassination. In another Chiaverini book, Mrs. Grant observed John Wilkes Booth stalking her.
I learned from my reading that nobody's family dynamics are perfect.
I personally enjoyed Fates and Traitors. However, the first part of the book moved slowly. I learned about the large Booth family. Family patriarch Junius Brutus Booth Sr. was named after one of the assassins in Shakespeare's Julius Caesar. Junius Sr. established a highly successful Shakespearean stage acting career in London and Europe. Junius Sr. and Mary Ann fled to the United States to avoid a scandal. Junius Sr. reestablished his acting career in America to great fanfare and acclaim.
The Booth family struggled with one family crisis after another. (Pardon the cliché, but the Booth family created a lot of family drama!)
Three of Junius Sr.'s sons (Junius Jr., Edwin, and John Wilkes) followed their father into acting. I'm under the impression that historians considered Edwin to be a more accomplished actor than his famous father.
Asia raised her own large family and also established herself as a writer and poet. She produced several memoirs about the Booths.
I recommend this book to readers of Civil War historical fiction.