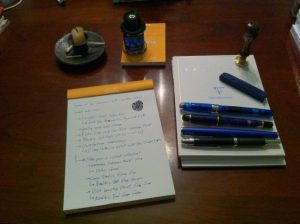 I read today that a New York City-based organization is going to erect a statue of Nellie Bly on Roosevelt Island.
Have you ever heard of Nellie Bly? This was the pen name for investigative journalist Elizabeth Cochran. Bly was born in Armstrong County, PA, in 1864. Bly started her journalism career in Pittsburgh in the 1880's. She got bored with her Pittsburgh gig, moved to New York City, and begged Joseph Pulitzer to give her a job at the New York World.
In 1887, Bly convinced law enforcement officers that she suffered from a mental illness in order to gain admittance to the Women's Lunatic Asylum on Blackwell's Island (now Roosevelt Island) in New York. Bly remained as a patient there for ten days. She reported on the institution's abhorrent conditions in an expose for the World.
Bly also travelled around the actual world as a reporter for the World.
Here's a link to the Washington Post story that I read today about Nellie Bly's investigative work, and on her pending statue.
Even though Bly was a pioneering woman from Western PA, I didn't learn about her at my own school in Western PA. I found out about her by accident when I was about ten or twelve and I read one of my mom's old junior high textbooks from the 1960's.
Years later, my husband and I travelled to Apollo, PA, to see the Victorian house where Jimmy Stuart's maternal grandparents once lived. By coincidence, we parked along the street in front of the Pennsylvania Historical and Museum Commission marker for Nellie Bly. The marker commemorated Bly's own childhood home.
You can read all about Bly and her remarkable career on Wikipedia.
Here's the thing that first caught my attention about Nellie Bly when I was a kid: Bly was born into relative privilege. Her father was a successful merchant and community leader. Bly received an elite education for a woman of that time. However, when Bly's father passed away, Bly and her mother struggled financially. Bly and her mother couldn't easily go out and get their own jobs.
Now, I know of people who claim on Facebook that women didn't work outside of the house in the "olden days." Women certainly did work outside of the house in the 1800's. Women earned their own incomes doing sewing, housekeeping, domestic work, laundry, childcare, nursing, teaching, acting, agricultural work, factory work, sex work, etc. (And of course, enslaved women worked for no compensation!) However, "privileged" women of a high social status had very few options for earning their own incomes without being ostracized by their networks.
(In fact, I read that after Dolley Madison's first husband, a lawyer, died in Philadelphia's Yellow Fever Epidemic of 1793 but before she married James Madison a year later, she had to take in sewing in order to buy food for herself and her young son.)
Nellie Bly talked (or wrote) her way into a Pittsburgh reporting job. Then, she gave it up at a great risk so that she could talk (or write) her way into a New York reporting job.
I bet that we can all name sports "heros" who were born in Western PA. So why isn't "Nellie Bly" a household name in Western PA?
Thank you for sticking with me as I flesh out some of my thoughts about a woman who demanded her own seat at the table! Stay in touch for my upcoming sailing updates and stories from history.