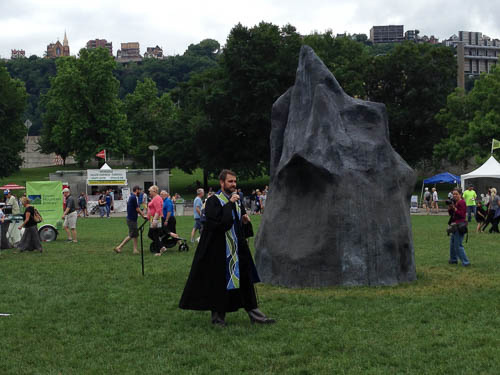 This is a photo of the induction ceremony for the Black Rock Negative Energy Absorber at the 2015 Dollar Bank Three Rivers Arts Festival. The ceremony and the festival occurred in Point State Park (at the Point) in downtown Pittsburgh in June 2015.
See, the festival occurs each year during the week of my husband Jonathan's birthday. So, we usually spend Jonathan's "birthday weekend" at the festival. We plant our camp chairs at the festival and view whatever programming appears.
In 2015, we showed up at the festival about noon on "birthday Saturday" and looked at the schedule. We actually arrived a few minutes before the start of this "induction ceremony," which happened directly in front of our chairs. So, we watched this ceremony.
Now, the festival commissioned Rudy Shepherd to create this artwork. At this "induction ceremony," a performer spoke about all of the negative energy that the artist designed this artwork to absorb.
This ranks among my favorite artwork from the festival!
Now, if you're not familiar with Western Pennsylvania, know this: downtown Pittsburgh marks the confluence of the Allegheny and Monongahela Rivers, and the mouth of the Ohio River. That's why Pittsburgh exists. George Washington served in two military campaigns in the 1750's to claim this land for the British.
After the second campaign, the very piece of land in my photo became the British Fort Pitt.
A lot of blood spilled over this piece of land.
If you want to read a bunch of depressing stories about Fort Pitt and the founding of Pittsburgh, you don't have to work too hard on your Google search. There's even a Lore podcast shout-out to the Fort Pitt smallpox blankets.
If you want to read "upbeat" historical fiction about this, then I recommend the novel The King's Orchard by Agnes Sligh Turnbull.
Anyway, I have a rock that I took from the Great Lakes that I can use as my own negative energy absorber.