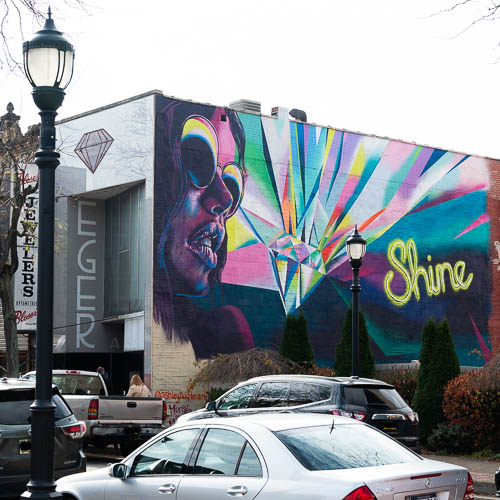 Here is a photo of the mural "Shine" by Ashley Hodder.
I wanted to shoot this mural against a blue sky with no cars in the foreground. Maybe I'll still get to this. However, every time that I drive down this street with my camera, the sky refuses to cooperate. Cars line both sides of the street. I'm lucky that I found a decent place to park today. I won't complain about a thriving downtown.
I shot this mural once before. As the artist painted it. Here is the work-in-progress on the evening of September 24, 2021, during the September edition of New Kensington's "Final Fridays."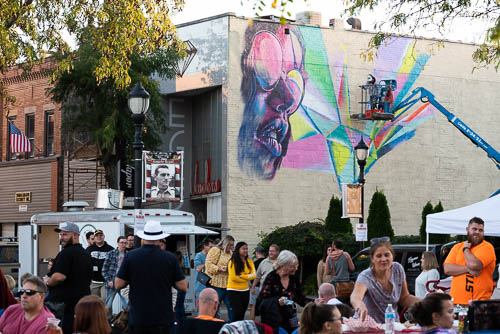 The building to which this wall belongs housed the former Bloser's Jewelers. Crews filmed a scene from the 2019 movie adaptation of Maria Semple's fiction novel "Where'd You Go, Bernadette?" inside this building.
The story actually took place in Seattle. The movie producers used Pittsburgh and the towns around Pittsburgh (such as New Kensington) as a stand-in for Seattle. Pittsburgh's a less expensive city. (New Kensington is even less expensive.)
I read the book. The book underwhelmed me. I guess that that whole story was kinda tongue-in-cheek. Most of the humor went over my head.
I didn't see the movie yet. I kinda want to watch it just to see the scene that was filmed inside of this building. But – the release date kept getting pushed back. Then, I found too many other ways to waste my time than to watch a movie adaptation of a book that I didn't enjoy.
My Call to Action: Did you watch the movie "Where'd You Go, Bernadette?" What did you think of it?