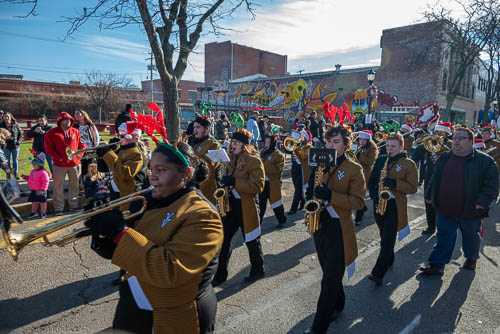 If you Google "New Kensington" and "Voodoo Brewery," you can find a lot of photos of Shane Pilster's "Rising Phoenix" mural. In fact, here are photos that I took last December, a week after Krampus brought me my camera.
You can also find a lot of information about New Kensington's Voodoo Brewery / Voodoo at the Ritz and Old Town Overhaul with a quick Google search. Here's such an article from the Trib.
So, for this blog post, I took a bunch of photos that showed the "Rising Phoenix" mural in the background as the community gathered for New Kensington's Christmas Parade.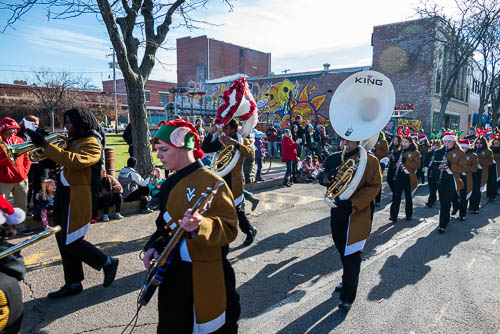 I felt really defeated last spring over the setbacks that Jonathan and I had encountered in trying to rebuild our front porch. I wrote a snarky post on this very blog about how murals weren't going to solve New Kensington's problems. The murals weren't solving any of MY problems. My sister Elizabeth is a hero because she read the post right after I published it. She told me that I was harsh. I took the blog post down about an hour after I published it. The post now resides for eternity in blog post hell. Or, maybe it resides in blog post purgatory because with my luck it's cached somewhere.
But, now our porch is almost complete. I feel much more hopeful about my future here in New Kensington.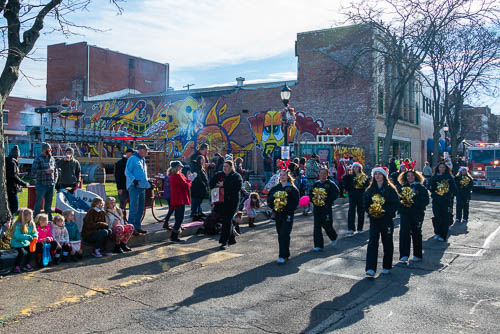 These marchers arrived on a bus from Valley High School in New Kensington. I watched the bus arrive. It travelled past me and unloaded on the next block over from where I sat waiting the parade to begin. I saw kids sitting next to the windows, holding their trombones.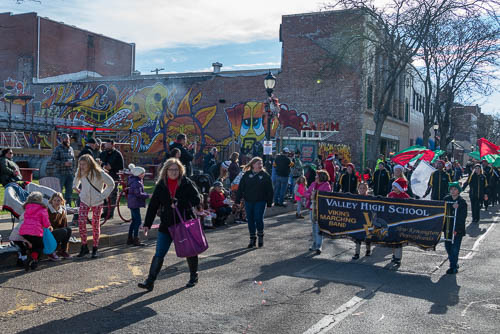 I have a soft spot for the high school marching band. I marched in a high school band when I grew up in Somerset County. I played the clarinet.
I don't remember getting to march past any cool brewery murals, though.